We at DayDayUp have decided to publish more frequently about our observation on the post Covid-19 opportunities in China and share mainly with our audience in Singapore. Our CEO Mr. Bo Yiqun will share his and insights on "Post Pandemic New Retail" in a series of short analysis on different topics. Since we are working with Enterprise Singapore (ESG) and Zhongguancun Science Park (Z-Park) for the purpose of helping Singaporean companies connect with China market. We are sure that his insights and our series of posts will excite your curiosity and knowledge. If you wish to add to his insight and/or ask  questions, you can always contact us via marketing@dduwork.com
Mr. Bo Yiqun was invited by SG Innovation Community Day 2020 to speak on 03/07/2020 at the session of Strategies for Borderless Growth in the time of COVID-19. Below is the summary of his  insights.

In May Chinese government released the annual Government Work Report which highlighted two key words clearly showing the market trends and opportunities, New Infrastructure, and New Consumption. Below is the summary of my ideas on opportunities from New Consumption. New Infrastructure will be discussed in the next post.

New Consumption, as a newly formed concept in China, could be simply understood as internet-driven consumption.

Two weeks ago, one June 18, the second largest online shopping festival in China, invented by JD, successfully closed up. RMB 269 billion was generated on JD.com (1 Jun ~ 18 Jun), with 33% growth YoY. If we count Alibaba and other major e-commerce platforms in China, a total GMV of RMB 1 trillion was generated during that festival!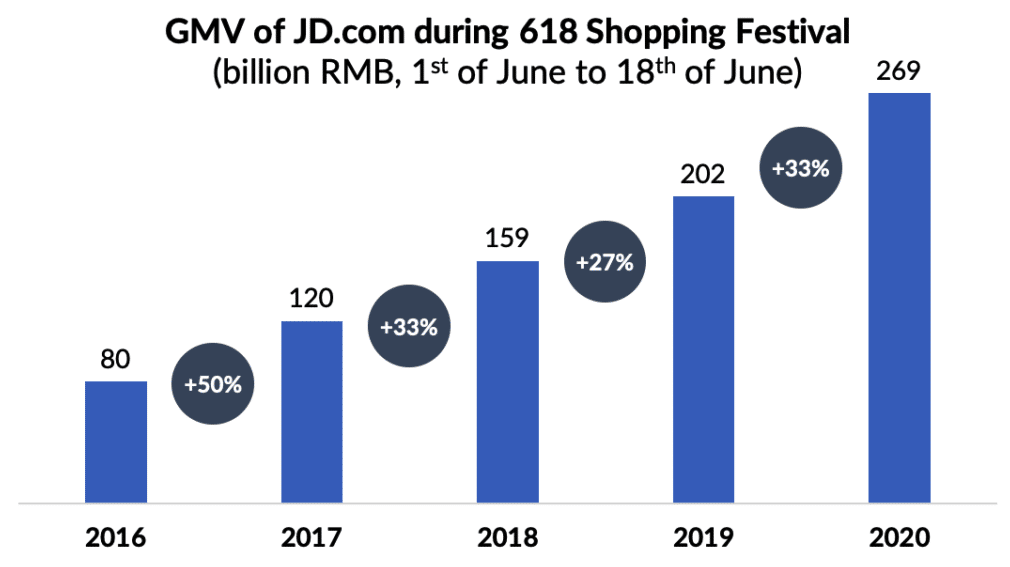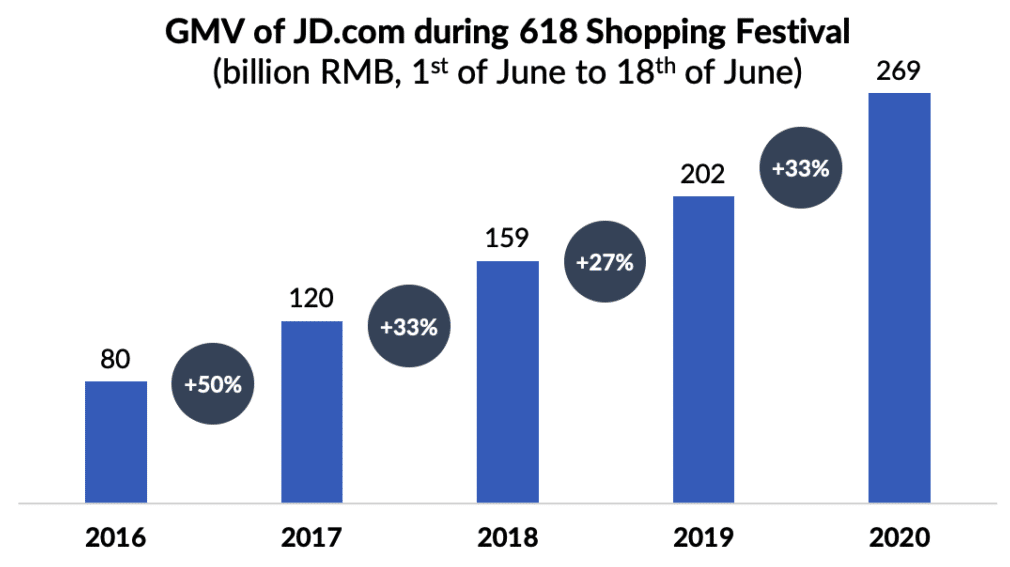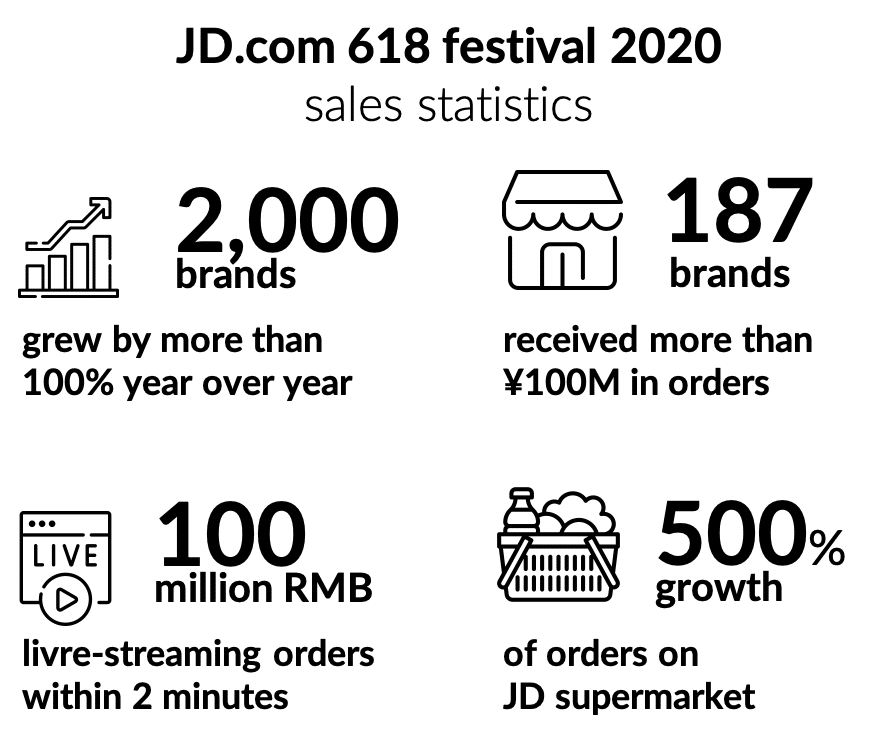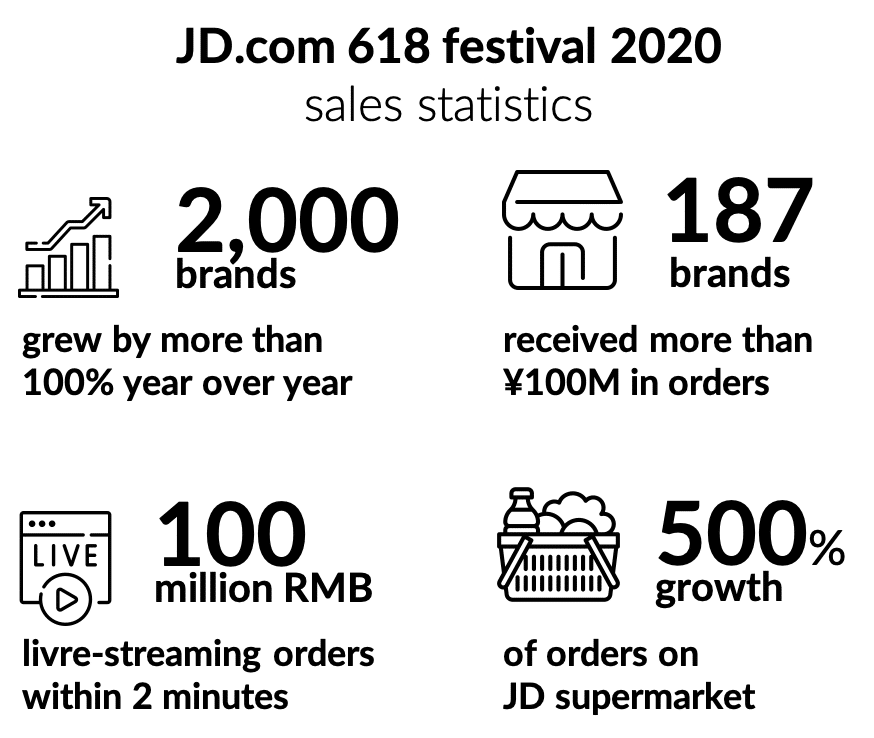 Source: JD.com, WalktheChat
Leading e-commerce platforms that you need to know:
Tmall (Alibaba) – RMB 698 billion during "618 festival", 160% growth YoY
Pinduoduo (Nasdaq: PDD) – founded in 2015, #2 e-commerce platform in China in terms of Market Cap (USD 111 billion, 2 Jul)
com (SZ: 2024) – Market Cap at RMB 111 billion on 2 Jul / 1,400 supermarkets, best case from offline to online
com (Xiaomi) – RMB 10 billion during "618 festival", a closed platform for products in Xiaomo ecosystem only
VIpshop or VIP.com (NYSE: VIPS) – Market Cap at USD 13.7 billion, the 1st online discount sales model in China
Xiaohongshu (RED) – USD 6 billion's unicorn, 7 years, 300 million users, favorite social e-commerce platform of girls (80% of user are female)
163.com – e-commerce platform of NetEase (Nasdaq: NTES), market cap at USD 59 billion
Another example of New Consumption is livestream e-commerce which is a new online shopping method largely driven by the pandemic. Viya who is the top level internet influencer in China, invited Kim Kardashian in her livestream show, and just in 5 minutes, they sold 15,000 bottles of perfume. And her record of online sales in one day in her livestream studio is 3 billion Yuan, which is even more than a regular shopping mall one year's revenue. As China's livestreem platforms are booming, tens of thousands of consumer brands have been saved by this new online shopping method, especially during the pandemic.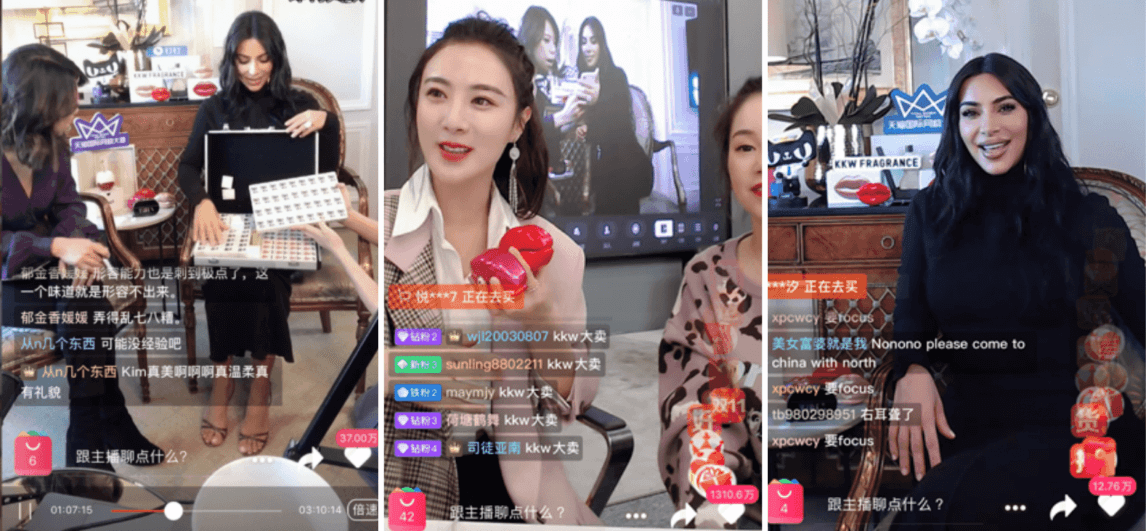 Leading e-commerce platforms that you need to know:
Douyin – DAU (daily active user) over 400 million, #1 micro video platform in China, developed by ByteDance, Top 3 unicorn in the world with valuation of USD 100 billion
Kuaishou – DAU  over 400 million, main competitor of Douyin, Pre-IPO valuation at USD 25 billion
Taobao (Alibaba) – the 1st livestream e-commerce platform in China, Viya's working palace!
Tencent – Tencent is Tencent! (HKG: 0700), market cap at USD 646 billion, same as Facebook, larger than Alibaba
If you have your own consumer product brand, you need to look at how China is taking advantage of  the "New Consumption" trends. You MUST consider selling your product in China's new retail platforms, and you may get some unbelievable results.

One post is definitely NOT enough! If you are interested in this topic. I recommend you to join our "Post Pandemic New Retail in China Programme". This programme covers topics from China's e-commerce, micro-videos/live streaming, social commerce, to digital marketing, from corporate brand positioning to new marketing and delivery channels, this course comprehensively analyzes how traditional retail can retaliate with a counter-strike against the epidemic dead-end. One more great news is, thanks to our partnership with Z-Park (in Beijing, 1st science park in China, managed by Beijing government), that ALL Singaporean companies will receive Z-grant, 70% funding support by Z-Park! For more info about the Post Pandemic New Retail in China Programme, please visit our E-learning system here.